We have all witnessed or read about the unlimited nurturing instincts of dogs. Mother dogs to puppies not their own, other household pets and even human babies. The following stories illustrate that wonderful capacity. On a side note I am constantly amazed at the compassion shown by dog rescue workers, which is also illustrated by these stories. Read these heartwarming stories to renew your faith in humans and canines.
written by  Patricia Lynn
Yet for all the comforting dogs do for humans, it can be difficult for humans to fully reciprocate the love. We do the best we can, but as you're about to find out, there's no better friend to a dog than another dog.
The people working at the Barkers Pet Motel and Grooming in Canada received a wonderful surprise when they went to check in on some newborn puppies one evening. When they checked the security camera, they couldn't believe their eyes. An older golden retriever, Maggie, had snuck out of her kennel to the puppies and was attempting to find a way in to comfort them!
The workers quickly headed over to the kennels and united Maggie with the puppies. There, Maggie stayed with the puppies all night.
What a beautiful moment shared between a dog and some foster puppies. When we're not there to comfort our dogs, our fellow dogs will do just as good of a job.
Please SHARE this heartwarming moment with your friends and family.
 Maggie attempted to find a way into the kennel in order to comfort the newborn foster puppies.
After workers let her into the puppies' kennel, Maggie stayed with the puppies all night!
Another very similar story out of New York,NY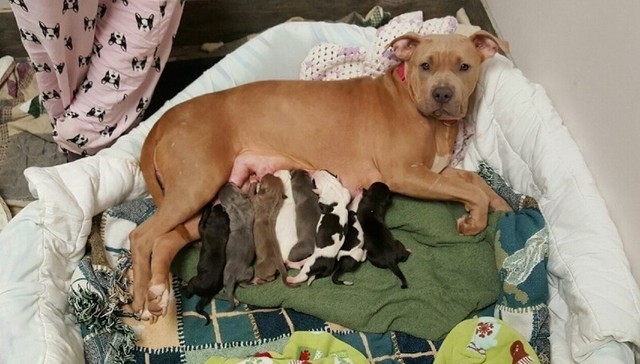 Shelter Dog Adopts Her Best Friend's Puppies After She Passes Away
When Lily Rose was pulled from Fulton County Animal Services in Georgia, she was in pretty bad shape. She had heartworms and mange — and she was also pregnant.
Rescue Dogs Rock NYC found out about Lily Rose from a video taken at the shelter, and as soon as they realized she was pregnant, they knew they had to get her out of there. The rescue quickly arranged for transport and got Lily Rose into the care of their vet partner in Maryland.
Almost as soon as she arrived, Lily Rose went into labor, but something wasn't right.
For some reason, her babies just weren't coming. X-rays showed they were moving around and ready to come out, but as more and more time passed and Lily Rose become more and more uncomfortable, action had to be taken.
Vets knew that doing a C-section was risky, but it was their only option. In the end, Lily Rose had eight healthy puppies, but sadly she didn't survive the surgery herself.
RESCUE DOGS ROCK NYC"Such an emotional roller coaster knowing mom was gone and yet still trying to save her 8 living puppies," Rescue Dogs Rock NYC wrote in a Facebook post.
Everyone who knew Lily Rose was heartbroken to say goodbye, but they were determined to give her puppies the life she would have wanted for them.
RESCUE DOGS ROCK NYC"We will never forget this happy, smiley girl, but all we can do to honor her now is to fight like heck to save her babies," the rescue wrote. "We promise you Lily Rose, we will move mountains for them as we did for you!"
After Lily Rose passed, the orphaned puppies were so tiny and desperately needed a mom. Luckily, a friend of Lily Rose was more than willing to care for them.
RESCUE DOGS ROCK NYCPocahontas was rescued from a flooded basement by Rescue Dogs Rock NYC. She also gave birth recently, and was still staying with her puppies at the vet in Maryland when Lily Rose arrived. The pair met and hung out before Lily Rose passed away, and since Pocahontas's babies are currently being weaned, she took over the task of caring for Lily Rose's babies, too.
RESCUE DOGS ROCK NYCOne might think that caring for 16 puppies would be overwhelming, but it hasn't fazed Pocahontas. She's been a fantastic mother to both her own babies and Lily Rose's — all the puppies are healthy and doing fine.
This last story from Pinal County AZ
Mama dog barely escapes death row, adopts 5 orphaned pit bull puppies in need of a parent
written by Grayson Berman on September 23rd, 2016
At the Pinal County shelter, a certain shepherd dog was put on the euthanasia list in order to make room for more dogs coming in.
Share Source: facebook.com
Luckily, Deborah Wilson came in and saved not only her life, but also 7 others.
She saw her and decided that they had to save her from this awful fate. And it's lucky that she did! As it turns out, she had two small pups, and by adopting the mother, she decided that she wanted the pair also, as to not split up her family.
Shortly after adopting the shepherd, Wilson saw an email that was going around, sent by a man who had nine pit bull puppies.
Share Source: facebook.com
In the email, the man was saying that he didn't want the puppies and he was going to kill them if he didn't find someone who wanted them.
In response, the community, as a whole, said that they would find someone to adopt and take care of the puppies.
They man gave them the puppies, and Wilson said she would take five! Five pit bull puppies! All not more than three or four weeks old.
She said this with the hopes that the shepherd would be ok with adopting the other five puppies as her own.
But luckily, it all worked out.
Share Source: facebook.com
On their introduction to their new mother, the pit bulls instantly began to suckle at her teats, hungry for milk. She sniffed and licked the puppies at first, but then laid down to let them eat!
"She is the best mom," says Wilson, who, one by one, introduced the puppies to their new mother. She accepted all of them and gave them milk. Now, she has seven little puppies to take care of!
Please SHARE this with your friends and family.